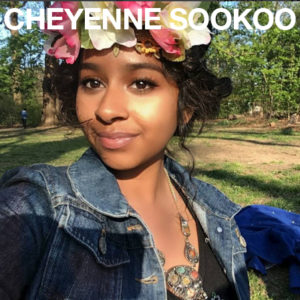 Cheyenne Sookoo is a Junior at Brooklyn High School of the Arts. She is a double major pursuing Art and Music. Cheyenne was born on the island of Trinidad and Tobago, and moved to Brooklyn, New York in 2001. Besides photography, she loves drawing and painting.
You get to express yourself in art and nobody can tell you otherwise. It's the best way to get your feelings, emotions, and thoughts out. Escape the outside world and get lost in your art. Whether Cheyenne is going into photography, graphic, or interior design, she wants to do what she loves. She wants a career doing what makes her happy.
Brooklyn was known for its distinct culture, independent art scene and unique architectures. Now it has quaint cafes on every corner and $4,000 rent.
The African-American and West Indians who have made Crown Heights their home are scattering because of surging rent and landlords who harass tenants to make room for higher income renters. It has affected young and old, and I believe that their voice should be heard.
I love being able to tell stories with my photography. I chose to capture the changing face of my neighborhood in Crown Heights. I wanted to tell the story of the residents and allow them to express their point of view on gentrification and urbanization. Is this change beneficial to our community? Does it have a positive impact or is it negative? They are a living reminder of the challenges facing a city struggling to make room for all its current residents, the people of an older Crown Heights, and all the new ones to come.