Alexis Lambrous Photos of Young Brooklyn High School Teacher
NYTimes.com Lens blog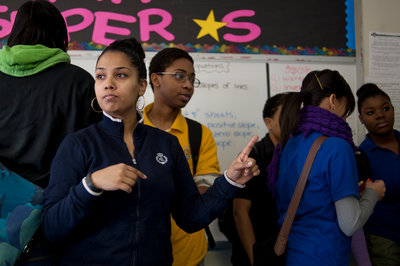 Today's lens blog feature begins:
Any thought of law school vanished the moment Ferrin Bujan stepped into a classroom as a student teacher. It was her last year at Queens College, where she was majoring in math and education, and she had been a little uncertain about her future.

"The world turned," she said. "This is where I wanted to be. I enjoyed helping students who were struggling and knowing I could make a difference for them." read more
The article continues to tell us the inspiring story of the dedication of Ferron Bujan as a teacher. It is also the story of Alexis Lambrou, a photographer who has dedicated herself to telling the story of new teachers in public high schools. A powerful photoessay is on the lens blog and more photos from the series on Lambrou's site.