Ten of the 2013 Future Imagemakers submitted images to the New York Times Lens Blog Hometown project. Click HERE to see a slideshow of the work.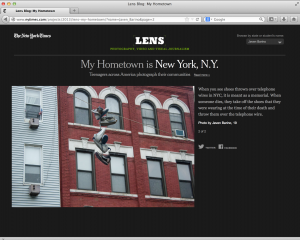 "My Hometown"  [is] a vibrant document of 4,289 images submitted by teenagers in school- or community-based photography programs across the United States, including rural villages and urban neighborhoods, wealthy suburbs and blue-collar Rust Belt towns.

While participants only photographed their own communities, together, the images create an important and lasting document of America today as seen by teenagers. They are published today in an interactive feature that opens with a selection of 145 photographs and is also searchable by state and by photographer. Many of the images will be archived at the Library of Congress in the Prints and Photographs Division. [Read more and see more of the 4,289 images submitted by teens throughout the country.]
It's so exciting to see their work in the NY Times.