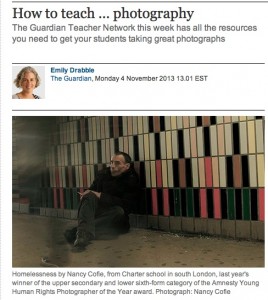 The Guardian is one of the UK's leading news sources and has a strong interest in education trends and support. They created the Teacher Network to help teachers connect and share lesson plans and curriculums. This article from The Guardian Teacher Network highlights a bunch of resources to help teachers get their students photographing.
"Students of all ages are fascinated by taking photos – and, now photography has gone digital, it is easy and cheap to get your students snapping. The Guardian Teacher Network has resources to help schools harness the potential of photography and use it as a really powerful cross-curricular tool."
They have collected a large number of activities, lesson plans, and resources that are a great starting point for teachers of any subject that want to integrate art into the classroom. Art, in this case photography, can really help a teacher engage their students with any subject. The activities could also be useful in a photography class; especially an intro class, where students are just getting comfortable with their cameras.
Check out the resources and get your students snapping today:
http://www.theguardian.com/education/teacher-blog/2013/nov/04/photography-amnesty-international