SPARC, The Social and Public Art Resource Center, is located in Los Angeles and aims to produce work that reflects the lives of its community. The organization was founded in 1976 by muralist Judith F. Baca, painter Christina Schlesinger, and filmmaker Donna Deitch. SPARC focuses on women, the working poor, youth & elderly, as well as newly arrived immigrant communities. Their main purpose is to examine what we choose to memorialize through public art. All of the work produced by SPARC is always a collaboration between artists and community members which allows art to rise from the community rather than being imposed upon it.
One of their most famous projects, "The Great Wall of Los Angeles," is a huge mural that shows inter-racial harmony. It stretches for 2,754 feet in the Tujunga Flood Control Channel of the San Fernando Valley. There are park and bike trails as well providing easy access for visitors all year round. It stands as a tribute to the working people of California who have helped to shape its history.
SPARC received support the distinguished Ford Foundation Animating Democracy: The Role of Civic Dialogue in the Arts initiative and from the Rockefeller Foundation Partnerships Affirming Community Transformation initiative to continue working on the great wall which they did until the end of the 1990s. They have now built a park alongside the Great Wall which turns it into an international educational and cultural destination.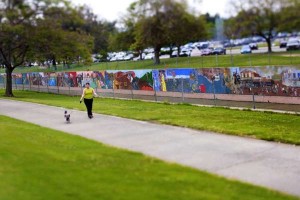 SPARC is an impressive organization that uses a participatory process that allows community members to create artistic and socially engaging pieces that give back to the community. They've made it onto the Los Angeles Times, and one of the founders, Judy Baca was invited onto Amy Poehler's talk show this past April.